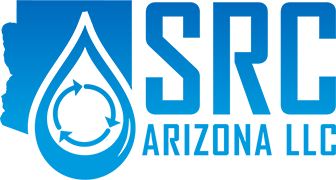 On Specification Used Oil Fuel-
SRC Arizona, LLC specializes in on-specification used oil fuel that is sold to asphalt paving companies for energy recovery and to refineries that manufacture new lube oils. SRC Arizona, LLC owns and operates an EPA approved facility and has extensive processing technologies that ensure our fuel is the best in the industry.
We provide all our customers with a high BTU value fuel that is extremely low in water content and has zero debris due to an extensive filter process. Once the used oil has been reprocessed, we send a sample of the fuel to an EPA approved lab to verify the product meets or exceeds all federal, state, and local regulatory requirements.
Upon delivery to our customers, we provide them with the EPA approved lab analysis. SRC Arizona LLCís on-specification used oil fuel has a higher BTU value per gallon than diesel fuels and other fuels, such as natural gas and propane. Additionally, our fuel deliveries are based on the customerís needs and can be delivered on short notice.
Disposal and Other Services
Used oil collection and recycling

Used fuels collection and recycling

Used oil filter collection and recycling

Used antifreeze collection and recycling

New antifreeze sales

Used oily solids disposal

Parts washers

Paint waste collection and disposal

Containerized waste disposal
Wastewater Services
Tank triple rising and cleaning for both ASTs and USTs. This includes fuels, oils and various other products.

The cleaning of sumps, separators, clarifiers and wash racks.

Oily water removal from machine shops, including Jet-Washer product removal.

Tanker Truck wash outs and rinse outs.

Secondary containment wash out and product removal.

Pressure washing and cleaning. SRC Arizona, LLC has a trailer mounted unit that produces 3500 psi and has hot and cold water.

For quotes and scheduling, please contact Larry Garrison. Mr. Garrison is the Sales Manager of the Water Department and he can be reached at 480.209.2093, or you may email him at
lgarrison@srcarizonallc.com